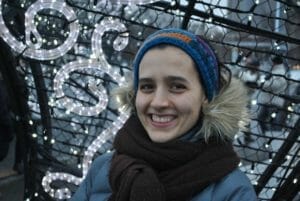 Claire Roosien
PhD Student | Near Eastern Languages and Civilizations
2016-2017 Fulbright-Hays Doctoral Dissertation Research Abroad (DDRA) Fellow in Russia and Uzbekistan
---
What drew you to the Fulbright-Hays DDRA program? What about it seemed like a good fit for you and your work at the time that you were applying?
The Fulbright-Hays program is one of the few grants that offers full funding for research in both the countries I needed to visit. I was familiar with it through a number of friends who had gotten the grant, especially since I had held a Fulbright grant a few years before. It might sound weird, but I also appreciated the opportunity to write up my research for a broader audience while I was still in the process of proposing my dissertation. My Fulbright-Hays statement actually ended up forming the core of my dissertation proposal!
At this point in the fellowship year, is there a particular experience that stands out to you? Or, something that you hadn't counted on that has since proven important for you or your research?
Before I left for my grant year, I was sure that the archives would be the most important part of my research. The archives have certainly turned out to be useful, but I've been amazed at how helpful it is to have long-term access to a wide array of periodicals and books from my historical period. These are published materials that I'd never be able to access in the States, and they've really shaped my argument and helped me to understand where the individuals I research fit into the media system and society.
Fulbright-Hays is known to have a rigorous application and selection process. Is there any advice you would offer students who are thinking about applying?
Join a writing group with Annie Janusch! I credit my success in the application process to her support. Also – and this is something Annie helped me do – take the time to think about how you can make your own obscure topic intelligible and exciting to people from all walks of life. (and don't kid yourself, all dissertation topics are obscure, even if they're not about Uzbekistan).
Also, go over your resume with UChicagoGRAD! I thought my CV looked pretty slick, until they got their hands on it and I realized how much I had to learn.
---
More about Claire's research
Claire's dissertation concerns the formation of a mass public in Soviet Uzbekistan during the 1930s – in other words, she asks how Uzbeks began to see themselves as part of a mass of people like themselves, participating in a shared media system. In her Fulbright-Hays research, she uses archival documents and published sources to understand how and why Uzbeks – historically a Muslim people, without a large industrial working class – became caught up through the media in Stalin-era projects of socialist construction.
More about the Fulbright-Hays DDRA Fellowship
The Fulbright-Hays DDRA provides 6-12 months of funding to do doctoral dissertation research in 1 or more countries worldwide, except Western Europe (unless visited briefly for archival research). The program is intended to create modern language and world area specialists who have an interdisciplinary approach to research.